Grooming your fingernails and toenails
Our aestheticians provide skilled techniques of cleaning, filing and grooming fingernails and toenails which includes the trimming and removal of the cuticle, moisturising the skin of the hands and feet, and removal of dead skin in both areas.
Our services include:
Bio Sculpture
Bio Sculpture Gel is the original everlasting manicure. Using only the finest ingredients, Bio Sculpture Gel's are Tried. Tested. Proven.
Our Bio Sculpture damage free system nurtures and protects the natural nail without the use of nasty dehydrating chemicals.
Bio Sculpture has an extensive range of over 180 coloursand endless nail art options that lasts up to 3 weeks on fingers and 8 weeks on toes.
Clinically tested with a 5 star safety rating.
Celebrating 20 years as the leaders in healthy nail care. Bio Sculpture products are hypoallergenic, 100% vegan, cruelty free and contain no harmful or toxic ingredients.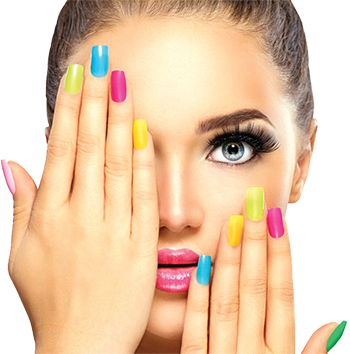 Shellac
A nail treatment that lasts longer than regular polish with a glossy finish. It is a combination of gel and regular polish and offers a water-resistant seal among nail protection and is less damaging to nails. The process consists of three steps and curing in a UV light.
Temporary Party Tips
Temporary tips can be just the thing to add dazzle to a special event like a wedding or a girls night out.
Manicure
Hand Soak. Cuticle work, nail shaping, scrub and massage ending polish of your choice.
Pedicure
Foot Soak, cuticle work, nail shaping, remove callused skin. Foot and leg scrub and massage. Polish of your choosing.
File & Polish
Fingers or toes. Cuticle work, nail shape and polish of your choice
Book your appointment with