4 questions answered to achieving smoother, softer skin with Bio-Synthesis™ LED Light Therapy
Bio-Synthesis™ LED Light Therapy
look better feel better!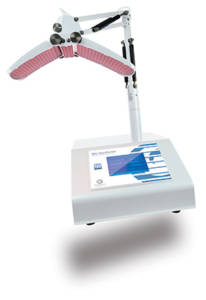 Enjoy an age defying, healthier, more youthful appearance with the revolutionary LED technology: Bio-Synthesis™. The Bio-Synthesis™ light activated rejuvenation system utilises high intensity light emitting diodes [LED's] which allow your skin therapist to quickly create customised LED services to address your specific skin concerns.
Clinically proven LED light therapy is known to be effective for a wide range of applications, including skin rejuvenation, acne reduction, hyperpigmentation and skin detoxification. The Bio­Synthesis™ LED treatment incorporates over 4000 individual lights and an advanced ChromaticTM skin care system to stimulate collagen synthesis and to reduce acne and hyperpigmentation to promote firmer skin and a more even skin tone.
Choose from 6 different Bio-Synthesis™ LED facials:
Age-Defying Chromatic Facial
Hydrating
Brightening
Clearing
Calming
Advanced
Experience Advanced Light Rejuvenation
The Bio-Synthesis™ light activated rejuvenation system is a non-invasive, comfortable treatment resulting in exceptional improvement to the appearance of your skin.
Experience Safety
The Bio-Synthesis™ light activated rejuvenation treatment is safe for all skin types and colours.
Experience Convenience
The Bio-Synthesis™ facial applications are convenient and hands free. The device features an intelligently designed 6 way adjustable panel and more than 4,000 individual lights that provide maximum and consistent coverage of the face, neck and decolletage. You can immediately resume your normal daily activities after treatment.
Experience Clearly Visible Results
With the Bio-Synthesis™ light activated rejuvenation system, you can often feel and see results after the first treatment. Bio-Synthesis™ increases collagen synthesis, reduces hyperpigmentation, detoxifies and reduces acne resulting in a firmer, healthier, clearer, more youthful appearance to your skin.
Treatment Protocol
| | |
| --- | --- |
| | |
| 1. Skin Preparation | 2. Chromatic Serum Application |
| | |
| 3. Hyaluronic Light Rejuvenation Masque | 4. Light Therapy Treatment |
LED Light Therapy Involves:
• No pain or discomfort
• No down time
• No negative side effects
• No surgery
• No thermal damage
• No scarring or discoloration

MORE INFORMATION | PRICING | BOOK ONLINE